M E M B E R S H I P
When you complete and submit the registration form below along with your one-time fee of $150 you will receive the following:
* LIFETIME MEMBERSHIP
NATIONAL SPORTSMANSHIP ALLIANCE
* "MEMBERS ONLY" pull-over

for men and women (Available men's sizes S-XXXL)
* "Membership Certificate"

suitable for framing with your
N-S-A ID number
Join our crusade to
PREVENT INJURIES ESPECIALLY CONCUSSIONS

in youth and high school sports
An N-S-A membership is also a great gift idea for a friend or family member!
*BUSINESS MEMBERSHIP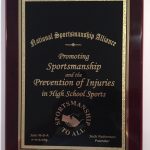 for a one-time fee of $200 you will receive a beautiful 9"x12" plaque for your business, office or reception area. You will also receive a lifetime business membership with a membership certificate and an NSA ID number.
NATIONAL SPORTSMANSHIP ALLIANCE REGISTRATION